About The Wooden Duck Shoppe
The Wooden Duck is a family owned fine gift, collectible and women's apparel retail shop that was established in the historic town of Skippack, Pennsylvania in 1973.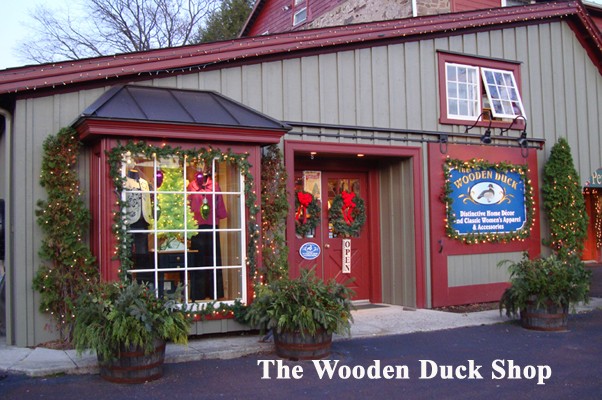 We are located in the town of Skippack Village (approximately 35 miles Northwest of Philadelphia) at 4033 Skippack Pike (PA Route 73) at the Homestead Shopping complex and are open 7 days a week for your shopping pleasure. Within the Village of Skippack are approximately 80 other specialty shops as well as many fine restaurants, so come and make a day of it.
The Wooden Duck offers classic women's apparel for all occasions; from casual to sophisticated, we have the style to fit your every need. We also have a diverse line of merchandise, from collectibles (Department 56, Byers' Choice Carolers, Lori Mitchell Figurines, Karen Didion Santas, Patience Brewster and Memories of Elaine to name a few), to other one-of-a-kind home accents and gifts for weddings, birthdays, anniversaries and any other occasion that you will not discover anywhere else.
Through a combination of warm and friendly customer service and unusual and diverse product lines, we have built a loyal customer following that have come to enjoy a new and unique shopping experience every time they visit The Wooden Duck. We view the customer interaction with our staff and the quality of our products as critical to the long-term success of the Wooden Duck and are constantly striving to improve the customer's experience at our store. Our sales associates are extremely knowledgeable of our merchandise and if we don't have a particular item we will make every attempt to find it for you.
Our vision for The Wooden Duck web site is to continue the reputation that we have with our existing "bricks and mortar" customers of providing warm and friendly customer service that has led us to being one of the premier gift and clothing shops in southeast Pennsylvania. We have no grandiose visions of becoming a "big box" web site, to do so would jeopardize our reputation that we have worked long and hard to build. We plan on adding additional products to the web site; our existing product offering is only a start. Visit the woodenduckshoppe.com often, we will be constantly updating the web site with new products that will prove to be unique and exciting!!
Or, better yet, visit our store in person and experience firsthand the unique shopping experience that you will not find in any department store. A favorite among children and adults alike are our old time candy that are difficult to resist.